European Roulette Vs American Roulette
What are European and American Roulette?
Roulette is the most well-known game of chances in a casino. Invented in European France in the 17th century, it slowly started moving to Las Vegas in America. The original version of roulette is known as European roulette and this is the most famous and well known version of the game that is still around today. The other form of this game is called as American roulette, which was invented at a later time in the United States.
First we'll talk a little bit about the European version, sometimes known as French Roulette as well. This game essentially includes a wheel, a metal ball where is thrown on the wheel and also a table where people place their bets. The figures range from 1-36 and are allotted either a red or black color. This means there is an equal proportion of black and red numbers, odd and even numbers as well as high and low numbers which range from the low (1-17) and high ends (18-36). There is also a single zero which is allotted a green color. This green is also called as "house number" because it forces a small house edge into the game. Otherwise if you bet on black or red, the odds would be equal that the ball would end up either on red or black. A coin will be flipped either on the head or tail. This single green zero slot adds a 37th pocket in the wheel that the ball can land on. So the odds of the ball landing in red or black are slightly less than half. Every once in awhile, the ball will land on green and anyone who bets on red or black will all lose to the casino's house. In face, the house has a 2.70% house edge because of this single green "0″ spot on the roulette wheel.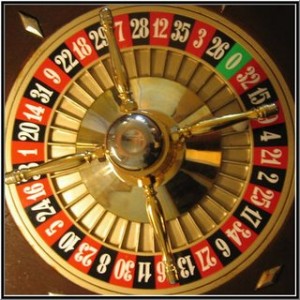 What is the difference between them?
American roulette has the same rules; it only has an extra green color slot with double zeroes. This helped casinos earn more profits and also made players lose a larger sum of money at a faster pace. This form of Roulette had no benefits. In fact worldwide, European Roulette is preferred for winning a larger sum of money.
Only United States has this version of game, as people all over the world play only European Roulette because of its known benefits. People in the US only play it because they are fans or encourage this game. A word of caution always checks whether it is a European or an American Roulette before you start in a casino.
Roulette is a game of chances and you may win a fortune if u chooses the right game and apply the strategies and follow the rules of the game usually found on the surface of the table. Also try spending time with people well versed with this game to learn the tricks.Dont get discouraged if you loose money initially as this will be a learning experience in itself.